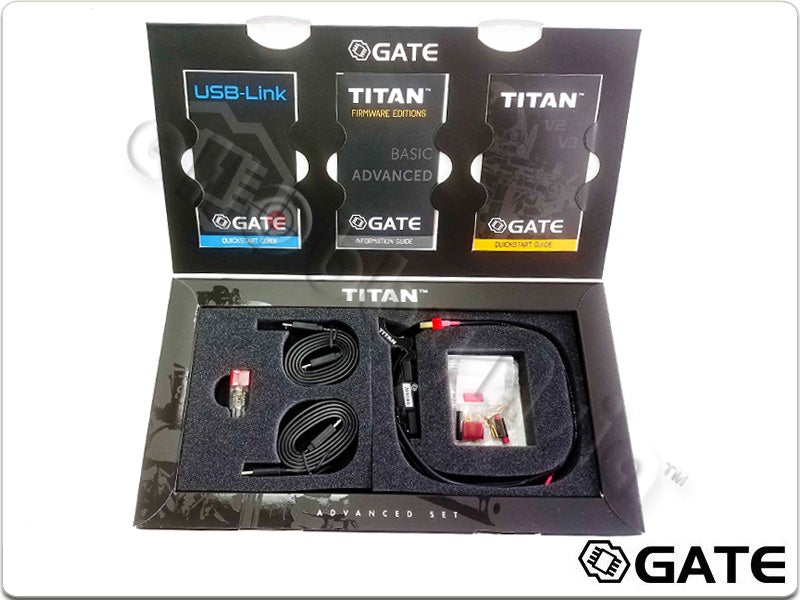 GATE TITAN Advanced Set for Ver.3 Gearbox
Product Description:
TITAN V3™ Advanced Set - at once you purchase all you need to take total advantage from TITAN. It includes TITAN with ADVANCED firmware edition.
The ADVANCED firmware edition offers wide variety of functions and is dedicated for those who like complex solutions.  It enables access to the Statistics and TITAN World Rankings. To learn all the differences between firmware editions, please check the comparison table.

GATE TITAN Mosfet Module - Advanced Firmware Edition (for V3 Gearbox)

Kit contents:
TITAN V3 with ADVANCED firmware edition
USB-Link for GATE Control Station™ App
USB-A Cable for USB-Link [1.5m / 4ft 11in]
USB-C Cable for USB-Link [0.6m / 1ft 11in]
Micro-USB Cable for USB-Link [0.6m / 1ft 11in]
Installation Kit
Quickstart Guides
TITAN V3™ is an AEG Control System for V3 gearbox which will transform your AEG into an advanced training weapon. Adjust your AEG using the USB-Link and GATE Control Station app. TITAN V3 enables you to adjust the trigger sensitivity with military precision. The proximity trigger sensor offers you even 250 possible sensitivity settings. Gain a tactical advantage thanks to the extremely fast trigger response and many other useful functions. Give your AEG a new lease of life!
Specification:
Color
Black
Country
Poland
Length (mm)
300
Net Weight (g)
225
Platform
ELECTRIC (AEG)
Replica Type
RIFLE