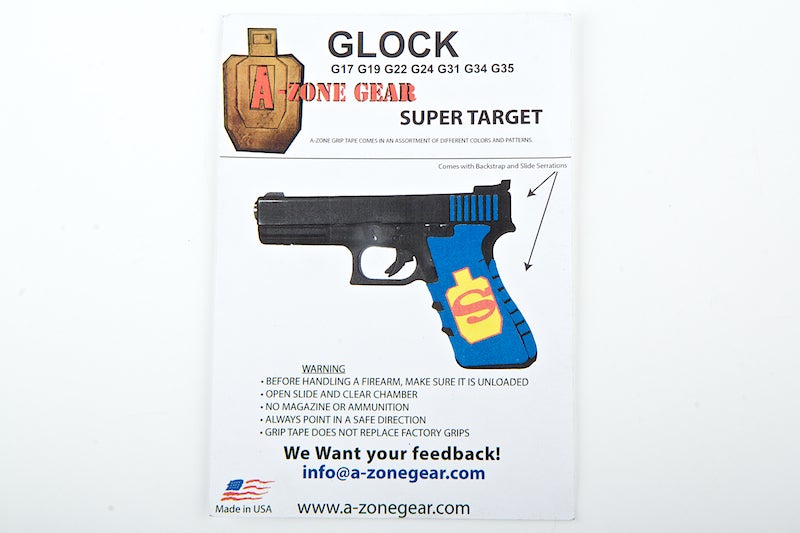 A-ZONE Gear SUPER TARGET for G Series
Product Description:
A-ZONE Gear SUPER TARGET for G Series

The A-ZONE Gear grip is precision cut for perfect fit. They require scissors to cut them out but once you have it's very quick and easy to install.

Putting this together is very easy:

First off, wipe off the entire grip area of both sides with the alcohol wipes provided.
Start by poking out the cut outs from the grip tape in which the inlay will be placed, poke them all out.
Place the inlay pieces on a flat surface and get familiar with how they fit and use the pictures as reference.
Start with the biggest pieces first.
Before application of grip, they suggest you test fit by wrapping the grips around before taking off the protective backing.
For easier application of grips, try blow drying with warm air. It will soften the grip tape allowing it to fit better.
Remove the protective backing about half way, start from the left side then align it when the grip.
Remove the rest of the protective backing from the grip tape and wrap the grip around the right side.
Now for the smaller pieces but remember to start with the next biggest size.
Repeat until you have completed the inlay.
After wrapping it, go over it with a blow dryer and press firmly around the grip for secure grip, then allow it to cool for several minutes.
Specification:
Color
Blue
Country
Hong Kong
Net Weight (g)
12
Style
GLOCK
Platform
GAS